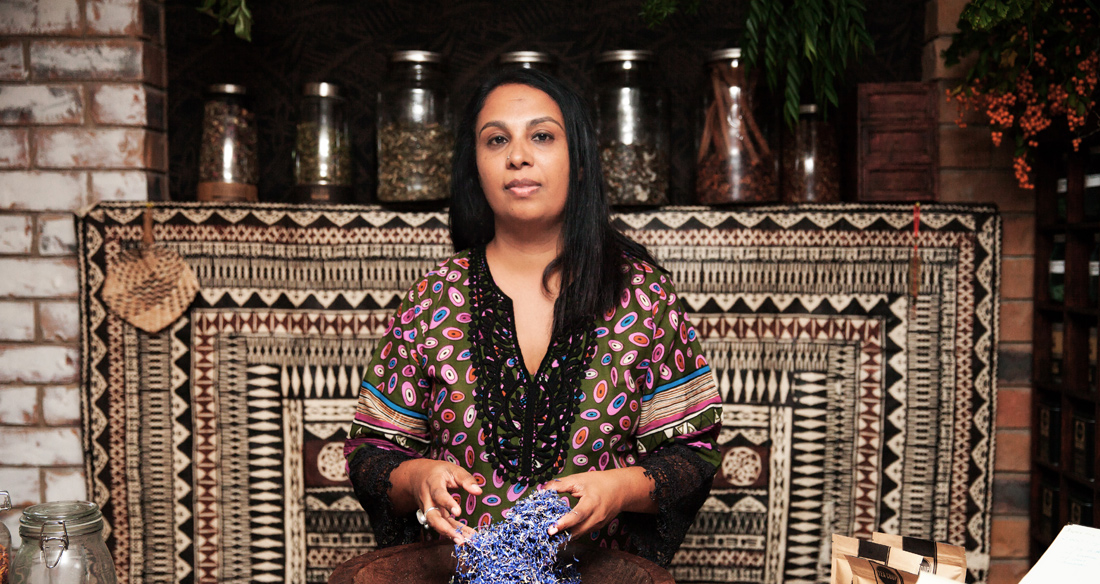 About Fehreen
I am a lifelong student of Ayurveda and Tea. Ayurvedic ritual and plant medicine have been a part of my life since the beginning. Born and raised in Fiji, currently living in Brisbane, I was immersed in the world of Ayurveda through food, herbs, ancestral rituals and storytelling.
I grew up in a tea drinking culture where women would blend their own spices for masala chai and men would gather around a Tanoa (ceremonial wooden bowl) to drink Kava. Both Tea and Kava were the glue that bonded people and communities together.
Inspiration
I am creatively inspired by my teenage son and daughter, my love of nature and art.
My grandmother has been a huge influence and inspiration to me – she was a very successful spice blender and her recipes and healing rituals have been passed down to me and woven into Tea Coup's philosophy.

The Tea Coup Journey
The seed of Ayurvedic inspired teas was planted in 2002 when I began my formal education in Ayurvedic Medicine. However it wasn't until 2010 when I opened my own Ayurvedic clinic that the idea really sprouted.
I was looking for Ayurvedic teas to offer my clients for ailments and general wellbeing and noticed that there was a real gap in the Australian market. The natural thing to do was to create and blend my own Ayurvedic inspired healing teas.
Highlights include:
November 2010 – commenced selling my tea blends via mail order.
January 2012 – finalised my six signature Tea Coup blends.
May 2013 – launched my website.
June 2013 – feature article on The Wisdom of Ayurvedic Tea for The Australian Tea Guide annual edition.
May 2014 – delivered the Ayurvedic blending component at The Australian Tea Masters Certified Blending Course.
September 2014 – presented a workshop on Mastering Chai at the Centenary Natural Health Expo.
February 2015 – attended tea workshops with Tea Master, Wu De.
June 2015 – collaborated with UK/Australian Brand Bodyism to custom create 5 clean and lean wellness teas.
August 2015 – partnered with Bohemian Raw and launched a Tea Coup Cafe range.
September 2015 – custom created a Detox Tea for Centenary Natural Therapy Clinic.
October 2015 – rebranded my website "Making It Sacred with Tea Coup" and launched my new lunar tea blends.

Alignment with Lunar Rhythms
"The moon gives moisture, the sun dries and the air mixing with both gives life"  
-sustruta-
The cycles of the moon play a crucial part in my tea blending process. I follow the lunar calendar as I believe that this is nature's way. On the crescent of the new moon, I formulate new blends and continue until the full moon night when I do the majority of my tea blending. I feel the energy during this time is very feminine as well as creative.
Ayurvedic Tea
Ayurvedic tea is a component of the ancient Ayurvedic holistic healthcare practice, which was developed in India more than 4,500 years ago. It was created to help individuals pursue optimal health and balance in life.
Ayurvedic teas are specially designed blends that combine exotic herbs, plants, fruits and spices from around the globe.
Teas are a great way to extract medicinal value from a herb as the seeping process activates the oil which is what holds the medicinal values.
Organic and Ethical Tea
To have a business that is as ethical and sustainable as possible is extremely important to me. This is my ethos in each step of creating my teas – from the earth, to the grower, suppliers, tea-blending and my customers – right up to the recycling of Tea Coup tins and bottles.
I source the finest organic teas, herbs, and spices in their mostly whole form. From an Ayurvedic standpoint, quality organic whole spices mean that it is full of Prana or life force, making our teas and tisanes a healing cup full of life.