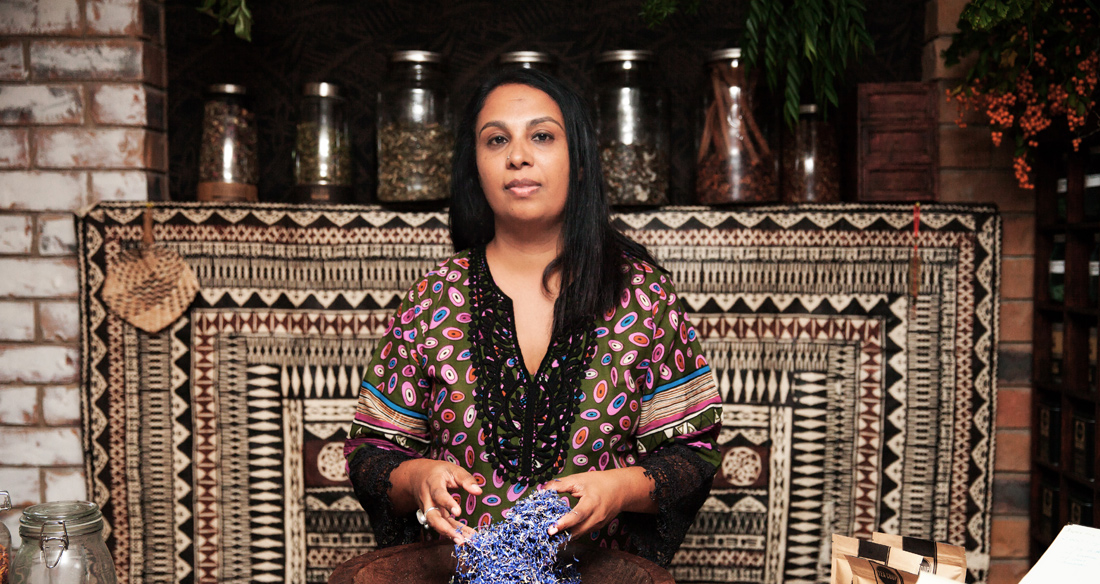 Meet Fehreen Ali
Fehreen Ali is an Ayurvedic Teaologist, Celestial Herbalist and founder of Tea Coup. One of the pioneer students of Ayurveda in Australasia, she has made it her life's passion to spread awareness of this ancient science through teas and tisanes.
Inspiration
"As a fourth-generation Indo-Fijian and a descendant of Indian indentured labourers, I grew up in a community where sacred knowledge was practiced daily and highly valued. Every action of every day was a ceremony of rituals; often gathering, preparing and serving. The elders in my family passed on their Ayurvedic, Unani, and folk wisdom through food, tea, plants, rituals, ceremonies, songs and storytelling."
As a student of Ayurveda for almost 3 decades, Fehreen's personal journey has been one of experimental trial and error. She has been fortunate enough to have studied under some of the most experienced Ayurvedic masters on the road to defining her own unique approach to plant base healing.
My grandmother has been a huge influence and inspiration to me – she was a very successful spice blender and her recipes and healing rituals have been passed down to me and woven into Tea Coup's philosophy.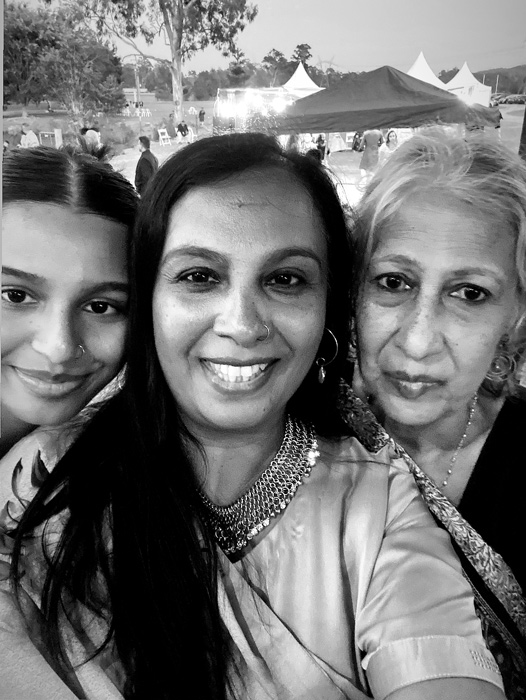 The Tea Coup Journey
The seed of Ayurvedic inspired teas was planted in 2002 when I began my formal education in Ayurvedic Medicine. However it wasn't until 2010 when I opened my own Ayurvedic clinic that the idea really sprouted.
I was looking for Ayurvedic teas to offer my clients for ailments and general wellbeing and noticed that there was a real gap in the Australian market. The natural thing to do was to create and blend my own Ayurvedic inspired healing teas.

Alignment with Lunar Rhythms
"The moon gives moisture, the sun dries and the air mixing with both gives life"  
-sustruta-
The cycles of the moon play a crucial part in my tea blending process. I follow the lunar calendar as I believe that this is nature's way. On the crescent of the new moon, I formulate new blends and continue until the full moon night when I do the majority of my tea blending. I feel the energy during this time is very feminine as well as creative.
Ayurvedic Tea
Ayurvedic tea is a component of the ancient Ayurvedic holistic healthcare practice, which was developed in India more than 4,500 years ago. It was created to help individuals pursue optimal health and balance in life.
Ayurvedic teas are specially designed blends that combine exotic herbs, plants, fruits and spices from around the globe.
Teas are a great way to extract medicinal value from a herb as the seeping process activates the oil which is what holds the medicinal values.
Organic and Ethical Tea
To have a business that is as ethical and sustainable as possible is extremely important to me. This is my ethos in each step of creating my teas – from the earth, to the grower, suppliers, tea-blending and my customers – right up to the recycling of Tea Coup tins and bottles.
I source the finest organic teas, herbs, and spices in their mostly whole form. From an Ayurvedic standpoint, quality organic whole spices mean that it is full of Prana or life force, making our teas and tisanes a healing cup full of life.